The Opioid Epidemic: Moving Toward an Integrated, Holistic Analytical Response
Source
National Institute of Justice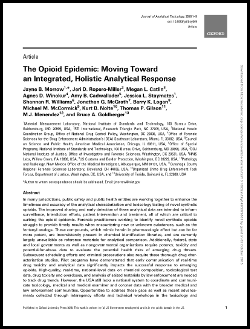 This article identifies strategies for improving the analytical capacity for chemical characterization, toxicology, and postmortem drug testing, which is required for the rapid identification of new analogs and the subsequent communication of these data through a newly envisioned national drug syndromic surveillance capability.
This national syndromic surveillance capability would use a common platform to improve real-time communication and coordination of data resources identified according to novel drug-use and exposure syndromes. In addition, such reduction in the time-lag for medico legal drug investigations (MDI) and toxicology reporting can facilitate emerging substance identification and scheduling.
This article summarizes findings from multiple workshops and scientific meetings that have proposed a framework for real-time surveillance of novel drugs that goes beyond seized-drug analysis for the purpose of law and border enforcement. The focus of such proposals is to support public health and safety.
This article supports opportunities for academic, industry, and government partnerships that address more effectively the dynamic and rapidly expanding response to the opioid epidemic in the United States.