Recommendations on Selection and Use of Personal Protective Equipment and Decontamination Products for First Responders Against Exposure Hazards to Synthetic Opioids, Including Fentanyl and Fentanyl Analogues
Source
National Institute of Justice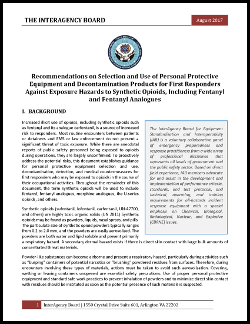 The InterAgency Board for Equipment Standardization and Interoperability (IAB) presents recommendations for the selection and use of personal protective equipment, decontamination products, detection, and medical countermeasures for first responders who may be exposed to opioids in their work. 
Throughout this report, the term "synthetic opioids" will be used to include fentanyl, fentanyl analogues, morphine analogues, the U-series opioids, and others. Synthetic opioids are highly toxic organic solids. They may be found as powders, liquids, nasal sprays, and pills.
The powders are easily aerosolized, and the powders are both water and lipid soluble, presenting primarily a respiratory hazard. A secondary dermal hazard also exists when there is direct skin contact with large bulk amounts of concentrate threat materials. Although there are anecdotal reports of public safety personnel being exposed to opioids during their operations, they are largely unconfirmed.
This report is a proactive effort to protect emergency medical personnel and law enforcement officers from exposure to synthetic opioids. The IAB, which presents this report, is a voluntary collaborative panel of emergency preparedness and response practitioners from many professional disciplines.
IAB members advocate for and assist in the development and implementation of performance criteria, standards, and test protocols, as well as technical, operating, and training requirements for all-hazards incident response equipment.
The guidance provided in this report includes information related to the performance of a risk assessment and recommended personal protective equipment (PPE). The major sections of the report provide recommendations on PPE selection and use, decontamination, detection, and medical countermeasures.