Tackling Urban Inequalities: A Process Evaluation of the Boston Defending Childhood Initiative
Source
Center for Court Innovation and National Institute of Justice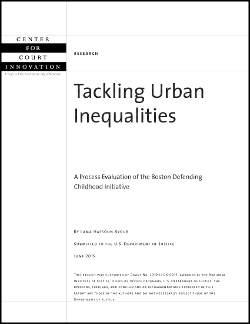 Led by the Boston Public Health Commission and Boston Medical Center, the Boston Defending Childhood Initiative (Boston DCI) is an effort to prevent children's exposure to violence, reduce its negative impact, and increase public awareness. The official goal of the Boston DCI is to prevent and reduce the impact of exposure to violence in homes, schools and communities for children ages 0 to 17 years.
Center for Court Innovation research staff evaluated the program between October 2011 and September 2014. Research activities included an extensive document review, primary quantitative data collection, two site visits, observations of two collaborative body meetings, multiple conference calls, and 30 interviews with 21 staff members and partners of the Boston DCI.
The Initiative had many achievements in its effort to prevent and reduce the impact of children's exposure to violence. One of the most significant accomplishments was the establishment and continuation of the Collaborative Body, where the project harnessed the resources of the city and brought together a large group of stakeholders and organizations from a variety of fields. The group addressed obstacles to working across fields and encouraged greater collaboration and cooperation amongst organizations that had not interacted before—or that had not interacted on an initiative of this magnitude.
Working predominantly with communities of color, Boston DCI developed a model for centralizing the importance of racial/social justice and health equity during both planning and implementation in nearly every approach for addressing children's exposure to violence. Examining implicit bias (race, gender, sexual orientation) was a theme across most of the work.
Additionally, Boston DCI successfully implemented evidence-based training programs in the form of Learning Communities and Breakthrough Series, which create an environment of learning and continued engagement for professional and system-wide change. Rather than relying on one-shot training sessions or workshops, Boston DCI embraced a long-term commitment to educating professionals and improving organizations through extensive and continuous training.