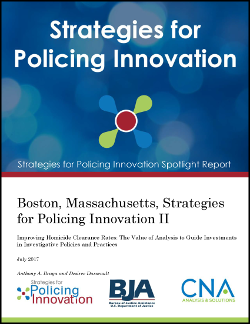 Since the mid-2000s, homicide clearance rates in Boston have been substantially lower than national homicide clearance rates. Between 2004 and 2011, about 44 percent of homicides investigated by the Boston Police Department (BPD) homicide unit were cleared, compared with some 63 percent of homicides investigated by U.S. law enforcement agencies nationwide. With the support of U.S. Bureau of Justice Assistance (BJA) Smart Policing Initiative (SPI) funds, BPD engaged in a problem-oriented policing enterprise to understand the underlying nature of its homicide clearance problem, develop appropriate responses to enhance its investigations of homicide victimizations, and evaluate the impact of the implemented intervention. The problem analysis included an investigation of 314 homicide victimizations from 2007 to 2011, as well as the creation of a homicide advisory committee that identified gaps in its investigative processes and suggested best practices, drawing especially on the United Kingdom model.
Using the results from the problem analysis, in January 2012, the Boston SPI team implemented a multipronged response (Boston SPI II) to improve BPD homicide clearances, including expanding homicide unit staff by more than one-third (35.7 percent), providing extensive additional training in cutting-edge investigative and forensic science techniques, developing and implementing standardized investigative protocols citywide, and holding monthly peer review sessions to discuss all open homicide investigations.
The Boston SPI team conducted a comprehensive evaluation of the homicide clearance intervention. Results yielded several positive findings, including the following:
In every measured category, BPD increased resources dedicated and investigative activities undertaken (some but not all improvements were statistically significant).
The homicide clearance rate rose by 10–18 percent (unadjusted and adjusted, respectively, depending on inclusion of cases awaiting grand jury decision). This increase was statistically significant.
The improvement in Boston's homicide clearance was not observed in the rest of Massachusetts or nationally.
Advanced statistical analysis showed that the intervention was associated with statistically significant increases in the probability of clearance.
The Boston SPI II offers several important lessons for law enforcement agencies seeking to improve their homicide clearance rates. The Boston intervention demonstrates the value of enhancing investigative resources and of adopting a comprehensive resource mindset rather than focusing on one particular resource. The Boston SPI II also demonstrates the effectiveness of the problem-oriented policing approach for analyzing and identifying problems with homicide investigative processes, developing responses to those problems, and assessing the impact of the responses.