Emily Blackburn
Subject Matter Expert
St. Louis Metropolitan Police Department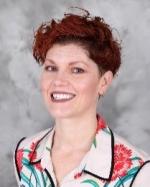 Areas of Expertise:
Technology & Crime Analysis
Biography:
Emily Blackburn is a researcher and technician based out of St. Louis, MO. She has been with the St. Louis Metro PD for 14 years and has managed their Crime Analysis Unit for the past 10 years. In this capacity she has worked to move the department forward in innovative uses of technology, data driven policing, and building outside partnerships to tackle crime fighting. In addition she strives to consistently work with research partners outside the department on topics to include effective police responses to crime hot spots, and utilization of technology in crime fighting.
Ms. Blackburn has an MA in Criminology and Criminal Justice from the University of MO - St. Louis., and is a Certified Law Enforcement Analyst through the International Association of Crime Analysts.