The impact of community policing on crime rates: does the effect of community policing differ in large and small law enforcement agencies?
Source
Police Practice and Research: An International Journal (February 2012)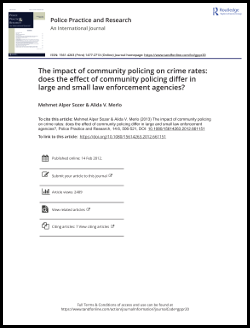 This study utilized three major data-sets consisting of Law Enforcement Management and Administrative Statistics 2003, two waves of Uniform Crime Report data, and the US Census 2000 data to examine whether the relationship between community policing and crime differs based on the agency size. To operationalize community policing, the authors employed factor analyses. The results yielded three dimensions for the construct of community policing. The multiple-regression analyses indicate that all dimensions of community policing have a significant relationship to crime rates in small agencies; whereas, in large agencies, only problem-solving partnership has a significant positive association with property and violent crime rates. The level of implementation of problem-solving partnership dimension has a positive effect on both small and large agencies, but this effect is more prominent for small agencies. These findings along with possible policy implications are discussed.