Smart Policing Links Sheriffs with Researchers to Improve Performance
Source
Smart Policing Initiative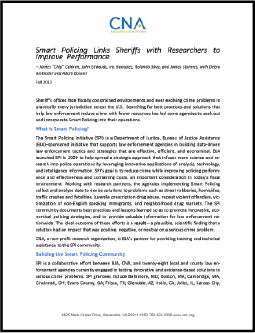 Sheriff's offices face fiscally constrained environments and ever evolving crime problems in practically every jurisdiction across the U.S. Searching for best practices and solutions that help law enforcement reduce crime with fewer resources has led some agencies to seek out and incorporate Smart Policing into their operations.
The Smart Policing Initiative (SPI) is a Department of Justice, Bureau of Justice Assistance (BJA)–sponsored initiative that supports law enforcement agencies in building data driven law enforcement tactics and strategies that are effective, efficient, and economical.
At the June 2012 National Sheriff's Association meeting in Nashville, Tennessee, two sheriff's departments—Palm Beach, Florida, and Evans County, Georgia—reported on their experiences with Smart Policing, and particularly on the positive impact that engagement with research partners has had on their respective agencies.