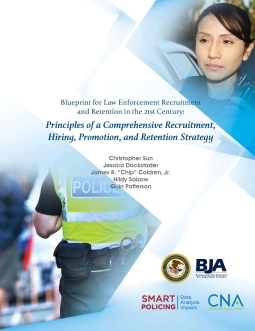 Law enforcement agencies across the country and the communities they serve have confronted extraordinary changes and challenges over the last several years. Following the COVID-19 pandemic, high levels of street violence, and widespread erosion of trust in law enforcement brought on by several high-profile killings of civilians by police officers, police agencies continue to experience high attrition rates as well as drastic downturns in the number of police officer recruits. The field must confront the drivers of this crisis with innovative approaches and dedicated resources.
To address this issue, the Bureau of Justice Assistance, in collaboration with CNA, the Smart Policing Initiative (SPI) Training and Technical Assistance provider, hosted a convening on the state of and future for law enforcement recruitment and retention on March 24, 2022. Over 70 individuals from 40 agencies across the country discussed their experiences with and recommendations for addressing issues in recruitment and retention. Attendees also included practitioners, researchers, and policymakers.
This Blueprint is based on proceedings from March 2022 convening and contemporary research and best practice on the topic. CNA also examined and integrated concepts from "Executive Order on Advancing Effective, Accountable Policing and Criminal Justice Practices to Enhance Public Trust and Public Safety" as well as Department of Justice consent decrees for law enforcement agencies as they relate to recruitment and retention issues, which have become a recent focus of consent decrees. Collectively, these sources provide a comprehensive perspective on contemporary recruitment and retention issues and offer data-driven directions for future action.
The Blueprint begins by describing the issue of law enforcement recruitment and retention in the 21st Century and the components that play into it. It then lays out four distinct principles for agencies to consider when addressing recruitment and retention including: 
Effective and Equitable Approaches to Expand the Pool of Officer Candidates;
Identification of the Best Candidates During Screening and Selection;
Retention of Officers that Reflect the Values of the Agency and Community with Accountability and Promotion Processes; and
Development of Officer Wellness Systems to Better Serve Officers and Communities.
This Blueprint concludes with strategies that law enforcement agencies can utilize based off each specific principle laid out in this document. The suggestions and information in this blueprint draw from law enforcement promising practices, academic literature, government reports, and findings from BJA SPI sites.