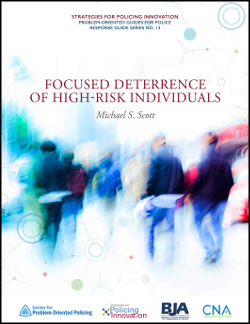 In 2013, the Bureau of Justice Assistance (BJA) funded CNA to work with the Center for Problem-Oriented Policing to develop a series of Smart Policing Initiative (SPI) Problem-Oriented Guides for Police. The purpose of these guides is to provide the law enforcement community with useful guidance, knowledge, and best practices related to key problem-oriented policing and SPI principles and practices. These guides add to the existing collection of Problem-Oriented Guides for Police.
This guide highlights focused deterrence, which is a crime reduction strategy in which carefully selected high-risk offenders (prolific or particularly violent criminal offenders) receive concentrated law enforcement attention and, simultaneously, offers of concentrated social services through direct, persuasive communication and rigorous follow-up of these commitments. Focused-deterrence initiatives (FDIs) commonly include such aspects as identification of prolific offenders, scripted offender notification meetings, coordinated and strategic prosecution, provision of social services to individuals willing to accept them, and careful monitoring of individuals' actions. The focused deterrence—or "pulling-levers"—strategy originated in a problem-oriented policing initiative to address youth-gang gun violence in Boston in the late 1990s. Since then, dozens of jurisdictions in the United States have adopted and adapted the model.
The Cambridge, MA; Chula Vista, CA; and Kansas City, MO SPI sites have all implemented new initiatives which use focused deterrence strategies. This guide highlights those and provides lessons-learned from the programs to departments interested in implementing their own initiatives. Cambridge targeted a unique group of offenders from three different jurisdictions who were selected based on a social harm index and attended call-ins voluntarily. The Kansas City Police Department partnered with the Jackson County Prosecutor's Office and Kansas City Municipal Government. In Chula Vista, domestic violence offenders were categorized by level of offense severity. These experiences help guide the path of departments looking to implement a focused deterrence strategy best suited to their jurisdiction. 
This report additionally presents an overview of the necessary components to administer and lead a focused-deterrence initiative. It provides examples of applications of focused deterrence to specific crime problems, and it provides details of focused deterrence initiatives which have been previously evaluated. Focused deterrence can be customized to address the specific challenges and environment of a jurisdiction and to combat crime.