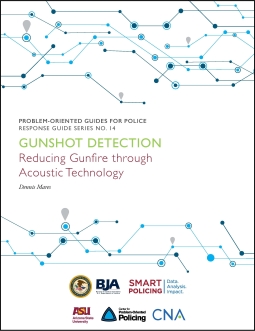 The Bureau of Justice Assistance (BJA) funded CNA, in partnership with the Center for Problem-Oriented Policing, to develop a series of Smart Policing Initiative (SPI) Problem-Oriented Policing (POP) Guides. The purpose of these guides is to provide the law enforcement community with useful guidance, knowledge, and best practices related to key problem-oriented policing and SPI principles and practices. The guides add to the existing collection of Problem-Oriented Guides for Police.

This guide highlights acoustic gunshot detection systems, which are sensors designed to recognize the acoustic pattern of gunfire. Gunfire alerts by such systems enable police to respond quickly to the right location of gunfire. Although the technology was developed some time ago, the last decade has seen a growing number of police department implementing the technology.

The guide examines SPI agencies and other agencies implementing gunshot detection systems and provides insights to agencies interested in implementing their own systems and initiatives. In addition, the guide pays particular attention to implementation and best practices in responding and investigation gunshot alerts. As the technology is relatively new in law enforcement settings, research is still limited on the extent to which gunshot detection may reduce gun violence and improve investigative success. This guide explains how the systems works, and how it generates data that can be used for tailoring the response to gunfire. The guide also explores how agencies should evaluate the outcomes of their efforts to determine whether the systems fit their needs.

Several SPI-funded initiatives are highlighted in the publication including Wilmington, Delaware; and Palo Alto, California. Similar SPI initiatives are also underway in Memphis, Tennessee; and St. Louis, Missouri. Results from these projects have advanced what is known about gunshot detection by showing that a majority of gunfire goes unreported by the public. In addition, the SPI in Phoenix shows the importance of detecting and linking shell casings. Palo Alto demonstrates that hot spots policing of high gunfire locations may be an additional way of leveraging gunshot detection. In Wilmington, the SPI project indicates that linking gunshot detection with camera networks may not necessarily improve investigative outcomes.