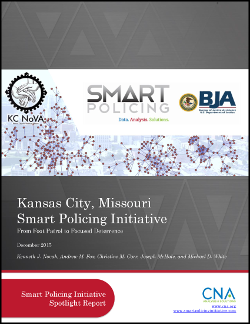 Kansas City, Missouri has experienced a persistent violent crime problem throughout much of the last decade. From 2010 through 2013, Kansas City ranked among the worst of the 50 largest cities in the United States for homicide, averaging more than 100 per year—for a rate of 22 per 100,000 residents. Kansas City's violent crime rate in 2012 was equally dismal, with nearly 2,500 aggravated assaults and 1,645 robberies. Violent crime in Kansas City is geographically concentrated in three of the department's six patrol divisions. In addition, violence disproportionately involves firearms. From 2010 to 2014, 90 percent of homicides and 42 percent of all aggravated assaults were gun-related.
In 2011, the Kansas City Police Department (KCPD) received a grant through the Bureau of Justice Assistance's Smart Policing Initiative (SPI) to team with researchers and develop innovative interventions to reduce violent crime. Over the next four years, KCPD and their research partners at the University of Missouri–Kansas City implemented a multi-pronged effort to address violent crime through evidence-based strategies. In 2011 and 2012, the Kansas City SPI team planned, implemented, and evaluated a replication of the evidence-based Philadelphia Foot Patrol Experiment. For 90 days, pairs of rookie officers worked foot patrol shifts in four violent crime micro–hot spot areas. Results showed that foot patrol areas witnessed a 26-percent reduction in aggravated assaults and robberies during the 90-day period, and a 55-percent reduction during the first six weeks of the study. No reductions were reported in control areas or in catchment areas surrounding the foot patrol areas. Crime did increase in the target areas during the last seven weeks of the study and returned to pre-treatment levels after the foot patrol treatment ended.
In 2013 and 2014, the Kansas City SPI team planned and implemented a comprehensive focused deterrence pulling levers strategy, called the Kansas City No Violence Alliance (KC NoVA). KC NoVA is an offender-focused strategy designed to reduce violent crime by building on the earlier success of the foot patrol project. During 2014, KC NoVA identified 64 groups composed of 884 violent offenders. The team held four call-ins with 149 attendees. As a result of the focused deterrence strategy, 601 offenders met with social service providers, and 142 offenders received a social service assessment. The SPI team conducted interrupted time series analysis to assess impact and found that the focused deterrence strategy produced statistically significant decreases in homicide (40 percent) and gun-related aggravated assaults (19 percent). The crime decline effects were largest immediately after implementation and weakened over time.
The Kansas City SPI produced a number of lessons learned for law enforcement leaders and line officers. For leaders, the Kansas City SPI demonstrated the importance of keeping focus on Smart Policing principles in the wake of leadership change, and of effective communication to both internal and external stakeholders. The Kansas City SPI also provided insights regarding different deployment methods of foot patrol. For line officers, it highlighted the importance of determining what officers should actually do during foot patrol assignments, other than be present and visible. Finally, the Kansas City SPI underscores the importance of embracing the two key messages in a focused deterrence strategy: the threat of a law enforcement response to additional criminal activity, and the offer of help for those who want it.