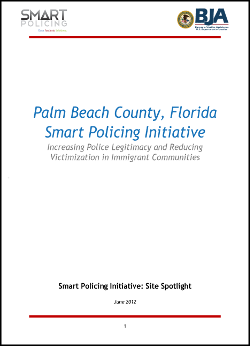 Recent increases in robbery in the city of Lake Worth, Florida have been concentrated in neighborhoods where many of the residents are migrant workers of Guatemalan (and Mayan) descent. The Palm Beach County Sheriff's Office (PBSO) and its research partner at Lynn University sought to address this robbery problem, as well as the challenges surrounding policing immigrant communities more generally, through their Smart Policing Initiative (SPI). The PBSO SPI included targeted efforts to increase police legitimacy, to improve residents' awareness of their victimization risk, and to empower residents to embrace crime prevention in their community.
The centerpiece of the Palm Beach County SPI involved the hiring of a Community Liaison to serve as a community advocate and as an intermediary between law enforcement and the immigrant community. In addition, a robbery detective was reassigned and dedicated to investigate all robberies in the immigrant community, work closely with the Community Liaison, conduct proactive patrols throughout the area, and monitor known offenders and ex-offenders. The strategies that defined the PBSO's Smart Policing Initiative reflect core principles of the Community-Oriented Policing philosophy, including data-driven analysis, community engagement, problem solving, and partnerships.
Early results from the program evaluation suggest that progress has been made, including improved relations between the police and the immigrant community and a reduction in robbery. The Palm Beach SPI project has been selected as a Top 25 semi-finalist for the International Association of Chiefs of Police/Motorola Webber Seavey Award for Quality in Law Enforcement, and is a second round finalist for the 2011 Herman Goldstein Award. The Palm Beach SPI has also been highlighted by the Vera Institute of Justice's project titled "Engaging Police in Immigrant Communities," which is a U.S. Department of Justice-funded program that seeks to identify promising practices in police/immigration relations.