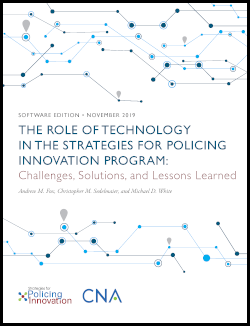 Effective use of technology is one of the foundational principles of the Bureau of Justice Assistance Smart Policing Initiative (SPI) program. Over the last eight years, SPI sites have deployed and tested a wide range of innovative strategies and tools to support their crime reduction efforts, several of which have been documented in SPI Spotlight Reports. Many of the sites have witnessed positive results from their SPI interventions—from reductions in crime and disorder to improved citizen perceptions of the police. Other sites have not achieved the expected results, largely because they struggled with proper implementation of their intervention or program.
This SPI Spotlight Report, the second in a two-part series highlighting technology's role in SPI, focuses on software innovation. The report provides case study reviews of four sites whose initiatives implemented two software technologies: risk terrain modeling (New Haven, Connecticut) and social network analysis (Cincinnati, Ohio; Glendale, Arizona; and Kansas City, Missouri). 
Each case study review briefly describes the technology, the SPI project goals and implementation, and the impact on the targeted outcome (crime). The report then reviews the benefits offered by the software innovation across sites, including more efficient deployment of limited resources and enhanced understanding of high-crime places and people. In each case, the report offers specific, concrete examples of how the technology has made valuable contributions to the efficient and effective functioning of the SPI agencies. 
However, the integration of technology comes with challenges, and the experiences of the SPI sites offer a number of lessons learned. This report delves into the challenges associated with unrealistic expectations about technology's impact and the problems created by unreasonable program objectives. The report also explores human problems that can derail implementation—such as a lack of buy-in at the line level. The deployment of new technology may present its own set of barriers—from cost and infrastructure requirements to the need for specialized training and staff. Some new technologies also face opposition from various stakeholders inside and outside the police department. Moreover, the implementation of new technologies are often difficult to evaluate, leaving researchers with tough decisions about how to best carry out rigorous evaluations. Last, sustainability can be a significant challenge, given shifting priorities and leadership change. 
The report also offers a look ahead at other recently funded SPI sites deploying software technologies, including prolific offender identification (Toledo, Ohio), risk terrain modeling (Detroit, Michigan). The report concludes with some final thoughts on the important role of technology in contemporary policing to reduce crime and enhance police capabilities.